The Maritimes continue to provide a relatively safe climate for spectator sports to keep rolling, recently adding QMJHL hockey. Media were invited to visit Halifax's Scotiabank Centre a few days before the Mooseheads' home ice season opener October 3. We were told about a reduced attendance limit (2000 people, well-spaced) and a bubble that resembled that of this year's Gold Cup and Saucer: Players and teams from outside the region would not be part of the local games. The spokeswoman guiding the media walk-through pointed out a machine spraying a fine mist of disinfectant into the air, the morning before the game.
Harness racing has also struggled with the matter of allowing spectators back at the track, particularly inside of grandstands. It's been tougher for tracks in regions more affected by the pandemic than the Maritimes, particularly in the United States. How are they doing now?
The Maryland Jockey Club originally announced harness venue Rosecroft Raceway was closed to the public effective March 12, but it was able to continue a little longer without spectators, offering its last card before the COVID-19 shutdown on March 18. Racing has since come back in the state, most prominently when filly Swiss Skydiver won the 2020 Preakness Stakes at a spectator-less Pimlico Racecourse October 3. Two-hundred and fifty people were permitted on site for the rescheduled Triple Crown race, but they were essential staff, not fans and bettors like Edison Hatter.
Hatter loves both breeds, and is currently calling the Standardbreds in his second season (2020/21) as Rosecroft's Wednesday night announcer. Rosecroft, now in its 71st year of operation, began its new season ahead of schedule on Wednesday, September 23. This was welcome news to Hatter, a relative latecomer to the sport.
How did a teenager randomly become a fan and horseplayer? "When I was younger, around 2011-2012, I found the Preakness on TV one day and thought it was really cool that a big sporting event like that happened right in my backyard in Baltimore," he says. "From there, I started to follow the Triple Crown and eventually horse racing on a general day-to-day basis. In 2017, for my eighteenth birthday, the only thing I wanted from my parents was to attend the Preakness since I was finally old enough to bet. The 2017 Preakness was the first horse race I attended in person. As for the harness side of the sport, on summer vacations to Ocean City, Maryland, my family took some trips to Ocean Downs and that's how I first came to know about harness racing."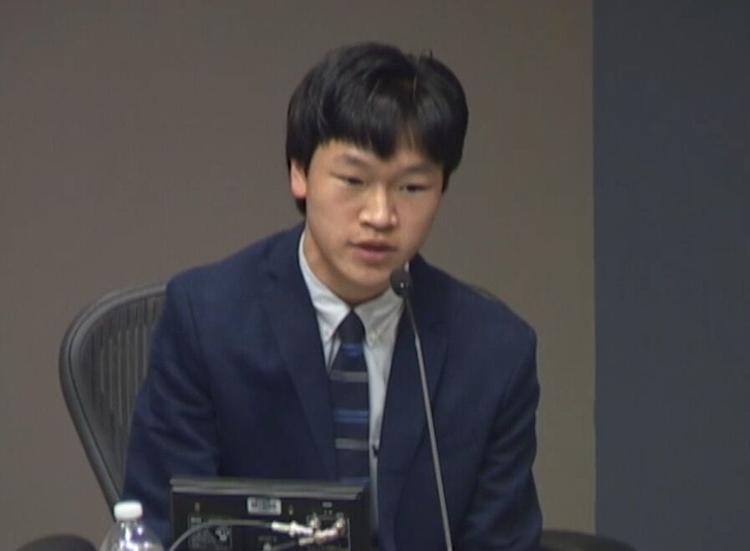 How about the racecalling?
"Admittedly, I had little experience or learning when it came to calling races," explains Hatter. "The most practice I had before Rosecroft was occasionally muting the TV and calling races myself. I ended up at Rosecroft via a string of good fortune. I have personally known Russ Adams, the photo finish guy at Rosecroft, for a decade or more, but neither of us knew about the other's interest in horse racing until recently. Russ knew that Rosecroft was looking for an announcer and recommended me for the job." Otherwise, Hatter's main racetrack experience consisted of working as a groom for Ralph Comi Jr., a close family friend and Thoroughbred trainer at Charles Town.
Hatter's ability quickly won him a regular role at Rosecroft. "In September 2019, I was originally brought on for a night to back up [regular racecaller] Pete Medhurst when he had a baseball game to call. However, after that night, I was offered the job at Rosecroft on Wednesday nights. So, since mid-September [of last year], I have been calling all Wednesday night cards while Pete calls the Sunday night cards. That is the only job I currently hold with Rosecroft."  
The 2020 University of Maryland Mathematics graduate enjoys his evenings at the track, and it shows. "My favorite aspect of calling harness races is whenever there is a close finish or a horse that makes up a lot of ground late to win," he says. "Both types of calls allow me to use a lot of energy in the call, and it is really exciting to call and try to guess who won a close photo, or to see that a horse is making up a lot of ground and seeing, hoping that they will get up in time to win."
A 2020/21 Youth member of the US Harness Writers Association (USHWA), the 21-year-old is philosophical about his track's six-month shutdown, expressing greater concern for the long-range health and financial well-being of horsepeople and the general public. When the 2019/20 season was abbreviated back in March, Hatter was on the mic for the final, 14-race card. Return date unknown at the time, there was nonetheless no doom and gloom in Hatter's voice as he called the last winner of the card home: "They come to the line and Into the Night is strong!" In a sight that's less common now, the mare was the only one wearing any kind of face covering in the winners' circle.
Hatter called his first race last fall, on Rosecroft's seasonal opening night. After some mentoring from Medurst, he was ready, and delivered the racecall that remains his personal favourite (of his own calls) to this day. Race 7, September 8 would have been a mouthful for many announcers. "The stretch drive ended up being really eventful, with a horse [#2 Talking Blues] breaking right after [challenging for] the lead and a 25/1 longshot [#7 Electricconnection] coming up the rail to win in a very close photo," he recalls. "Somehow, I managed to call the action pretty accurately and I correctly called the winner of the photo in real time."
This September 23, he made the call that would raise spirits among a wider audience: "And they're off in the fall opener here at Rosecroft!"   
Racing looks different there now, with rules around social distancing, etc. in effect, although Hatter doesn't need to wear a mask inside the booth when he calls races.
"As for fans, the Governor of Maryland has just released new guidance two weeks ago that would allow for up to 250 spectators at both Rosecroft and Laurel Park (our Thoroughbred track running in the state currently)," he notes. "However, there are still currently no fans at either track and we have not been told of a date when spectators will be allowed yet. Officially, we are still in a 'closed to the general public until further notice' state."  
Bettors have fortunately stayed loyal to the Maryland harness track, the announcer informs Atlantic Post Calls. "Handle has been good. Obviously, it was disappointing when we shut down in March with all the momentum we were building on the wagering side of things, but hopefully that will continue this fall. Lately, we've had 15-race cards, which has allowed for two Pick-4s and the late one has been televised on TVG, so that has certainly helped those bets to take off a little bit."     
During the downtime between Rosecroft's closure and its comeback, Hatter tuned in to Oaklawn, Tampa, Fonner, Will Rogers Downs, as well as international options. "I also spent some time plotting a trip to the first track to welcome fans back," he says. "After the national shutdowns, Memorial Day weekend at the Florida greyhound tracks was the first time in the United States fans were welcomed back to the track, to the best of my knowledge--and I drove 14 hours through the night that weekend to watch some races at all three of the remaining greyhound tracks in Florida: Jacksonville Best Bet, Palm Beach Kennel Club, Derby Lane."
Although he graduated (virtually) this spring and returned to his role at Rosecroft, Hatter is still nostalgic for his favourite race. "I thought the Preakness was fantastic as always. Swiss Skydiver was as game as they come and just refused to give in to Authentic--a really special horse. My dad and I attended in 2017 and 2018 (2017 Preakness being the first horse race I was ever at) and my mom and I attended in 2019. So, it was somewhat sad to see that streak end--I suspect I'll end up being one of those '60 consecutive year' attendees at some point, so time to start a new streak next year!--but I was with my parents in National Harbor, Maryland, enjoying a nice dinner when the big race went off so that was nice."   
With the Standardbred Horse Sales Company relocating the 2020 Black Book yearling sale from Harrisburg, PA to the Maryland State Fairgrounds in Timonium, MD this November 3-5, harness racing will be in strong focus this fall in the Free State. Hatter agrees that the Standardbreds are coming back with full force, despite the setbacks of 2020. "Potomac Pace Night will be Sunday, November 15," he notes. "I think we're really lucky that with all the big race cancellations this year, especially in the harness world, that we are even able to have a Potomac Pace. As always, I'm just looking forward to seeing the stars of our sport, both human and equine, race around our track for a night. Tim Tetrick was here last year and won the Potomac Pace with Endeavor." 
From the Maritimes to Maryland, it's encouraging to see sports return safely as the weather cools and days shorten. Here's hoping the fans can get back to Rosecroft soon, and Hatter can eventually make reservations for Preakness 2021.