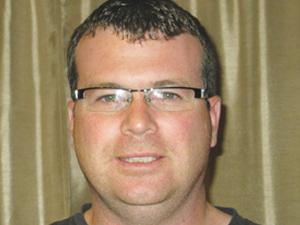 Our April column of the Post Calls is written with feelings of sorrow, as just last week Northside lost one of our regular drivers, Barry Bates. The Bates stable, including brother Martin, are known for their red and black silks, Barry teaming as the southpaw, Martin the right hander. Both have enjoyed a lot of success at Northside over the last 15 years. Barry will be certainly missed by all his friends and fellow competitors in the racing game as we get set to kick off 2022.
---
Longtime local horseman Barry Bates passed away last week at only 52. Barry was a regular driver first at Tartan Downs and raced horses annually at Northside since 2007 when the Regent St. oval resumed regular racing. Barry was all business on the track, and was predictable, which I admired as a driver. He pulled no punches. If he could make the front early, you better not leave against him, he'd park everyone, (even his brother Martin the odd time). He certainly issued his fair share of Regent St. parking tickets over the years. 
Barry had great success over the past few years with a couple of his own pacers. A newly acquired Blacky Black in 2019 took the Downs by storm and would reel off six wins in the fall of that year, including several at the Winners Over level, and was one of the favorites that year to win the Governors Cup final. He was also a contender for Horse of the Year, despite arriving at the Downs mid season that year.
Last year Barry enjoyed a terrific season with his own mare Red Rum She Wrote, who came to Northside with no money on her card from a few lifetime starts a few years back, but would go on last year to beat the boys in the Winners Over last fall in a season's best and new mark of 1:56.4. We shouldn't have been surprised Barry pulled the upset that day, he went to the front and never looked back. Red Rum She Wrote was the winner of the $3,000 Governor's Cup consolation. Barry drove many good horses over the years, including one of my personal favorites being Scotty Dude, who was iron tough on the engine, and won I believe just over 50 races lifetime and raced til he was 13.
At a young age, Barry excelled and enjoyed playing baseball and hockey which he played for many years before turning his hand to coaching minor hockey. He was a lifetime fan and supporter of the Toronto Maple Leafs. To his brother Martin, who also drives regularly at Northside, his wife Wanda, their three children Jaret, Faith, Rohan and all his family and friends, our sincerest condolences.
---
Farewell to Pompano: Wally Wins Finale
Even if I wasn't writing this article, I still would have been looking at my laptop on 1:15 am Easter Monday morning because I wanted to see the final card in the history of Pompano Park. In what should be a surprise to no one, Wally Hennessey had a fairy tale ending as he won the final race in the track's history, guiding a Somebeachsomewhere offspring, Beach Prospect, to a new mark as part of four wins on the night. Wally also won with twelve year old track record holder Panocchio, who scored his 77th career win. I took a shot at the final race with a .20 high five, and thanks to keying Wally on top, I can say I cashed a ticket on the last race ever at Pompano. Hennessey also finished second with the Maritime connection Island Beach Boy for owners Ian Smith and Arnold Hagen and trainer Marcel Barrieau. 
Jody Jamieson also drove on the historic night, and picked up a win in his only ever appearance at the Florida oval. John MacDonald took the Open pace with Agedcheddar Hanover, Hall of Famer Dave Miller also drove on the card, with the final broadcast featuring a lot of great interviews and replays of some of the most famous owners, trainers, drivers and horses who made history there. Gabe Prewitt and the staff did a great job paying tribute to the history of the track, in what was both a celebration, but also a night to reminisce about the closing of another popular racetrack in North America. 
---
Exhibition Grounds For Sale
A recent for sale sign last month has put the sprawling Regent Street facility, home to the annual Cape Breton County Farmers Exhibition and the Northside Downs harness racing track, up for sale. Owned by the Cape Breton Federation of Agriculture, the 35-acre property has been listed with a local realtor. The asking price is $1.1 million. In the March 29th article in the Cape Breton Post, Joel LeBlanc of Harness Racing Cape Breton commented that "We are negotiating. We're optimistic the property will include long-term horse use well into the future. The grounds have been a cornerstone of Cape Breton's agricultural community for generations and we believe there is support for this to continue." 
At press time there has been nothing in the media in the past week to indicate that the property has been sold, and so we will assume that the 2022 harness racing season will be starting on schedule in a few weeks. Harness Racing Cape Breton has had a lease in place for several years to utilize the facility for a set number of race days. We will follow this sale with great interest as we move forward through the spring.
---
Northside qualifiers are set for Saturday April 30th and Saturday May 7th with opening day set for Saturday May 14th
---
Awards Change to Virtual Presentation
A recent increase in daily Covid cases has forced the annual in person Cape Breton Island Horseowner's Association Awards night to be cancelled and replaced with a virtual presentation of winners which should be made available to the public by the end of this month. In our next edition we will recap all the award winners from the best of 2021. If our schedule holds true to form, we also should be re-capping opening day of the 2022 season in next month's edition as well. Until then we extend to our readers good luck, good training, good racing and good handicapping.