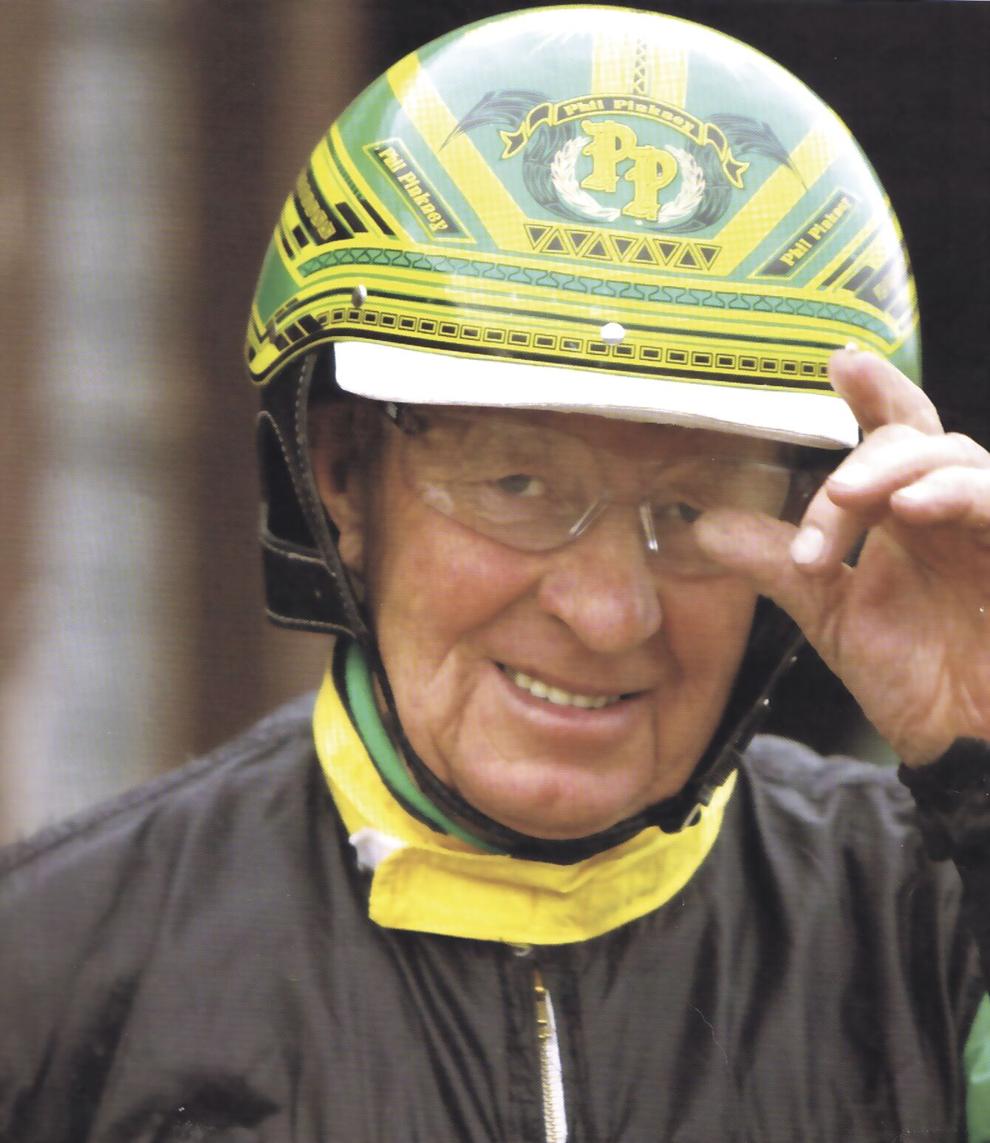 "Ian Smith, one of the most successful and prominent horse owners over the fifty years had this to say on Phil Pinkney, "first and foremost a gentleman and class act at all times. One of the great all-around horsemen ever to come out of the Maritimes; we share so many memories like world champion Rumpus Hanover, Beeler Hanover, Blush of Spring, Out to Score, My Tickled Pink. Funnier memories like geese and fox hunting on PEI, where on a trip to George Riley's farm, the dogs got lost chasing the foxes".
As people close to harness racing are aware, Phil Pinkney is no longer breaking, schooling and training young harness racing prospects. The highly thought of horseman was forced to step back in 2020 because of a health issue.                                                                                                 
During a race-card at Truro Raceway, a nice tribute was paid to Pinkney. Recently, I visited Pinkney at his Lower Onslow home. We followed the COVID-19 protocol and wearing a mask I sat down about eight feet from the host. For approximately an hour, we took 'a wee glance back.'
 Pinkney, who grew up in South Ohio, near Yarmouth, came to Truro in 1951. "My father (Kirk Pinkney) came to Truro and was racing a couple of horses. My brother Dave came before me, he worked at the creosote plant and with the horses. I was 14 when I went to work with Belbo Gould at the raceway." Pinkney recalled top horsemen Johnny Conroy, Harley Harrison, Ed Haley and Clayton MacLeod being stabled in Truro at the time. The dedicated, hard-working Pinkney began driving horses in 1953 at age 16.
I first watched harness racing in 1956 as a 12-year-old. A big crowd was on hand at Truro Raceway on a Saturday night. I recall beautiful horses being reined by drivers in bright coloured silks. One of the drivers who grabbed my attention wore green colours. Looking very professional, it was 19-year-old Phil Pinkney. 
Continuing to watch racing, I later followed Pinkney when he trained and drove horses for the Stanfield Stable (Frank and Beth Stanfield) The  stable included such horses as Kinkora Girl, Magna Wick, Rose Charm,  Campbell and Mclulliwater.
During the summer of 1963 or 1964 I got to meet Pinkney. Riley Marshall, the superintendent of Stanfield's Ltd., had given Darrell Maxwell, another young man and myself summer jobs working in the stock room. During an noon-hour, Pinkney came out of the mill following what I would guess was a horse-meeting with Mr. Stanfield. He took time to stop and talk to three or four of us employees. On that occasion Pinkney invited me to drop over to the stable. This was possibly the stepping stone to me becoming a big Phil Pinkney fan.
Part of this horsemen's career included journeying stateside and being stabled at Rockingham, Foxboro, Liberty Bell, Vernon Downs and Saratoga Raceway. In 1969, while playing hockey in the United States, I visited Pinkney a few times at Vernon Downs. Later, I spent time with him at Saratoga.                  
Returning to Nova Scotia, Pinkney raced at all the major tracks while being stabled at Truro, Sackville Downs, a horse farm in Middle Musquodoboit and then back in Truro.                                                                        
Phil's brother Dave Pinkney was first of the Pinkney's to race into Gold Cup and Saucer history as he drove the great Willies Adios to a 4-4 summary in the in the 1962 race won by Dees Boy, and 2-4 with the same horse in the 1963 Cup and Saucer won by Bob Brook and driver Walter Craig. Dave was also a fast closing 3-3 with Bob Brook in the 1967 own by Dr Harry C and Roach MacGregor.
Phil's first appearance was in the 1972 Gold Cup and Saucer finishing out of the money with Four leaf, the only time Phil did not hit the board in the Maritime's greatest race; he was back in 1975 aboard Glowing Wayvue picking up money in the race won by Saint John speedster Power Baron.
In 1978, the man who many veteran harness racing fans consider the region's best all-around horseman, Phil Pinkney won his first Gold Cup & Saucer race at Charlottetown with Nickname, the result of a slick gate to wire effort.
1 Nickname (Phil Pinkney)
2 Patton Hill (James MacGregor)
3 Mastering (Boyd MacDonald)
5 Major Event (Milton Downey)
8 Kitley Township (Russel Burgoyne)
Owner: The Whebby Stable, Dartmouth, N SS
It was a much tougher task in 1986, "I was driving a three-year-old Rev Your Engine, it was a bad, muddy track. We didn't get away all that good, we had left in the second tier and were sitting sixth or seventh going up the backstretch the second time around. My horse went by a lot of horses in a hurry. We had a real battle down the stretch with Angel's Shadow and Marcel Barrieau all the way through the homestretch.  
"I guess we won by a head. It was unbelievably exciting, there were fans everywhere, thousands watched the race, hundreds were in the centrefield. 
The Gold Cup & Saucer is the biggest race in the Maritimes, it was kind of an honour to have won it."
1 Rev Your Engine (Phil Pinkney)
2 Angels Shadow (Marcel Barrieau)
4 Gemini Risk (Steve Mahar)
5 Burners Delight (Jody Hennessey)
6 Cruise Captain (Mike MacDonald)
8 Good Advice (Bob Craig)
Mile 2:02.1 (sloppy track)
Phil was also 3rd with Ian Smith's Beeler Hanover in the 1988 race won by The Papermaker, a close 2nd with the great Sherwood Abe in the 1989 Cup and Saucer won by Stargaze Hanover, but by this time Phil's focus was on developing stake horses for the expanding Atlantic Sire Stakes and the lucrative events sponsored by Dairy Queen.
In this phase of his career, Phil Pinkney developed four Maritime champions, he trained and drove Deep Finesse, Absolom, Force Ore Finesse and  Dunachton Gale. (Bred by Ian Smith's brother Don Smith of Pownal, PEI).
"I was lucky over the years to have some great owners," Pinkney said. "I want to give them credit. Dave Fillmore of Berwick, Nova Scotia owned the horse throughout his racing career. I'd have to rate Dunachton Gale one of the best horses I had over the years, he paced in 153.2 and earned around $200,000 racing here in the Maritimes. That's not bad for a Maritime bred horse. Pinkney also developed an outstanding American bred colt Mark Jonathan, he went on to earn $687,997.00 while taking a mark of 151.3 
And, there were others...
Standardbred Canada statistics tell the story of Pinkney's outstanding success as a driver: Lifetime earnings $2,314,189.00, Drives 5,506, Wins 1,654, Seconds 802 and Thirds 624.His training record (horses he trained but did not drive) list another $1,092,781.00 in earnings.
Besides Pinkney's major accomplishments on the track, he was one of a kind as a spokesperson for harness racing. I recall being in Summerside close to 15 years ago when Pinkney won the big Governor's Cup race with Dunachton Gale. (Phil also won the Governors Plate in 1993 with No Worries). Following winner's circle ceremonies -- it was incredible as Pinkney slowly walked his horse along the rail talking with numerous friends, fans and strangers. 
The upcoming race was no doubt delayed slightly that day but race fans (including myself) loved it as did the Summerside race officials. 
Pinkney was doing a great job promoting harness racing.
 And, I can still picture the winner's circle scene around Maritime tracks over the years. When Pinkney won, on a regular basis there always seemed to be 30, 40 or more race fans surrounding the winning horse and driver. 
Perhaps horseman Barry Whidden said it best when interviewed a few years back. "Phil is the master of the sport of harness racing," Whidden said. 
"And, he's a friend to everyone he meets."