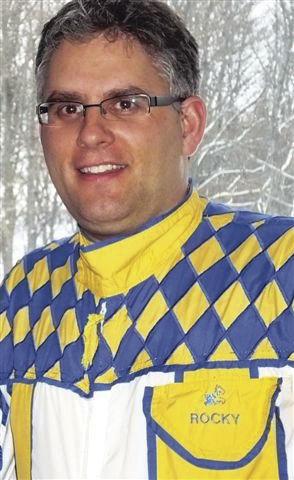 Welcome to Rocky's Racing Corner!
We're getting ready to start qualifying horses in the next couple of weeks and the excitement is in the air here on Prince Edward Island. There are a lot of horses training back here in Summerside. There are a number of 3-year olds on the grounds and a few babies as well. Keith Campbell has moved his good trotter Hop Up and a new purchase in to Summerside to train down and they both look really good. I watched Duane MacEachern and Frank Banks train a 2-year-old and a 3-year-old together last week and they're looking good. Vance Cameron's baby is coming along nicely as is the 3-year-old colt that the Stewart's recently acquired. I am very well pleased with my colt at this writing as he's training down good thus far. I haven't seen very many others training, as most of them are gone by the time I get there from work. Hopefully in the coming weeks the weekends will be nicer to watch more people training back their horses! Qualifiers will be held here in Summerside on Sunday May 2, 2021 beginning at 12 pm. We kick off the 2021 harness racing season here in Summerside on the holiday Monday May 24, post time is 1 pm.
The Equi Ciser: It seems that the PCHC board of directors are shopping our Equi Ciser around to a certain horseman here on PEI. This is totally unacceptable for numerous reasons, including the most obvious, it was purchased with government funding for the betterment of our horses here in Summerside. Another reason that it is unacceptable, there was never a general meeting with the membership to ask if this is an asset that we want to get rid of. This machine is a dandy one when the proper footing is in there. We have red dirt in there now, and it is packed and hard and not fit to put a horse in (my opinion) I think the directors need to look at getting the thing up and running properly instead of trying to sell it off. I know I am only one opinion, but from what I've been hearing from others on our backstretch, they seem to have the same opinion as me.
Podcasts: As a lot of you are aware Retro Media and Nicole MacPherson and yours truly have been putting up podcasts on the book World Harness Racing over the past year or two, and now, we will be switching our focus to doing some interviews with people throughout the harness racing industry. I look forward to talking to different people all throughout the Maritimes whenever we get set up for this. Stay tuned!
---
Let's start our flashbacks with one from Saturday July 22, 1978 at Summerside Raceway and Kilkerran Brewer opened things up for Lloyd Smith and owner Harry Mitchell in a non-wagering, winner take all race in a maiden breaking effort of 2:15 turning back Glengyle Pelican (Jimmy Whelan) and Triacta (Roy Reynolds). Race 2 went to Pammy's First for owner/trainer/driver Keith Campbell in 2:17 over Brandy Greenwood (David DesRoches) and Another Bobby (J. Allan Smith). Race 3 was won by a newcomer to PEI, Two Gun with Vince Poulton driving for owner Boyd White in a time of 2:17. They turned back Darcy Lee L (J. Allan Smith) and Peter A Forever (Les Waite). Race 4 a C trot went to Zeesa Tata with Wally Dalziel driving for his father Art. in a time of 2:17:1, turning back Paddyland Elmer (John L. Bernard) and Rustico Streaker (Alyre Pineau). Race 5 was won by Perennial A for Jimmy Whelan in 2:13:2 over Judge Cullen (Dale Sobey) and Socks of Gold (Charlie MacKay). Jimmy Whelan co- owns Perennial A with brother Walter. Race 6 went to Rapid Baron with Lloyd Smith driving his own horse and it was also Lloyd's second win on the card, in a time of 2:14.2 over Sporty Anthony (Bernie Doucette) and Rae Bell Bruce (Elmer Folland). Race 7 went to George Smith's Gran Miss Winnow for Randy MacEachern in a time of 2:16.4, over Tassy's Clue (Jimmy Whelan) and Mar Con Zip (Graham Chappell). Race 8 open trot went to Volar for Sterling Willis in 2:16.1 over Top Horn (Willliam Waite) and Hail (Bill Hicken). Race 9 was won by Darn Good Signal for owner/driver Lea Bell in a time of 2:15 over Superstar Hanover (Emmons MacKay) and K Town Robbi (Jimmy Whelan). Race 10 the D Alex MacDonald junior free for all for a purse of $500 went to Armor's Pet owned by Elroy MacLure and driven by Allison "Hook" Walsh in a time of 2:09.1 over Keystone Champion (Ron MacArthur) and Miramachi Whitey (Jimmy Whelan). Race 11 the final race on the card went to O K's Earl for Jackie MacLeod in a time of 2:19 turning back Bermac Thunder (Bobby MacInnis) and Valiant Sampson (Emmons MacKay).
---
November 22, 1980 Summerside Raceway
First race of the afternoon went to Speedy Darby for Elmer Clow in 2:23 over Byes Thunder (Ernie MacDonald) and Ridge Valley Venus (John Jewell). Race 2 went to Sunrise Answer for Joe MacRae in 2:24.3 over Grand Miss Anthony (Garth Smith) and Mabou River Chief (Harold Shepherd). Race 3 went to Peter Coughlin's Forever Rosie for Bernie Doucette in a time of 2:24 over Kimberley Newport (Elmer Folland) and W L Scott (Gordon MacLean). Race 4 was won by Kevin and Vance MacMillan's Just A Hoot for Lester Chappell in 2:28 over Sumter Melody (Bobby MacInnis) and Sea View Boy (Graham Chappell). Race 5 went to Elgin Veno's Senator Josie for Basil Whelan driving in a time of 2:22 turning back Sebale (Bennett MacDonald) and Licorne Aqua (Elmer Folland). Race 6 saw Gordon Grady's Tuffy's Pride hit the wire first for driver David DesRoches in a time of 2:22, over Flashy Fella (Bill Henderson) and Speed N Spice (Allan Livingstone). Race 7 went to Loleta Myers' Starlight Skipper for Terry Affleck in a time of 2:25, over First For Amy (Russell Drake) and Glengyle Jill (Roger Smith). Race 8 saw Darn Good Signal the winner for owner/driver Lea Bell in a time of 2:21, over Rae Bell Edna (Ralph Frizzell) and Can Tar Jason (Calvin MacQuarrie). Race 9 went to Greenwood HP for John MacDonald in a time of 2:22, turning back Rae Bell Dawn (John Jewell) and Rae Bell Bruce (Elmer Folland). Race 10 the finale was won by Cletus Gallant's Tar Boy George for Gus Doucette in a time of 2:24, over Bail Out (Ernie MacDonald) and Bon Fire Boy (Joel Brown). Well, that's it for this week. I'm sorry it was such a short column but next months will be a lot better, as I hope to have lots more on the horses training back here in Summerside. Until next time, I hope you're all in good health and I'll see you at the track!