Community Foundation of PEI
| | |
| --- | --- |
| Sunday | Closed |
| Monday | |
| Tuesday | |
| Wednesday | |
| Thursday | |
| Friday | |
| Saturday | Closed |
About Community Foundation of PEI
ABOUT CFPEI
The Community Foundation of PEI was incorporated in 1993 and is part of long legacy of Community Foundations in North America. The first Community Foundation began in the U.S. in Cleveland in 1914. The first Canadian Foundation began in Winnipeg in 1921; there are now some 191 plus Community Foundations operating in Canada.
---
OUR WORK
CFPEI aims to help communities become resourceful, resilient, and ready for the future.
Part of what makes Prince Edward Island a great place to call home is our commitment to each other. This is a place where people care, and are actively involved in supporting one another in many situations and on many levels. Our Foundation strives to support this community spirit. We seek out ways to nurture and strengthen the many community-building initiatives and activities that happen in our communities every day.
We believe philanthropy has a role to play in addressing some of the most pressing issues in our communities. Permanent endowments and other philanthropic funds are vital community resources that can help address issues, both now and in the future. When we connect people who want to 'give back', and who can help others do more, we make our community better.
We seek to better understand our Island communities. Sweeping changes in our economy, our population demographics, and our physical environment are just some of the broader issues and trends affecting our Island. We actively participate in the life of the community, engaging in consultation and discussion whenever and wherever we can, to ensure that our work as a Foundation remains relevant to what is happening in our communities.
We strive to make it easier for our communities to connect and to help each other. We utilize any opportunities to learn from the groups we fund, our donors, our partners, and our colleagues from all areas within the province. We learn, gather information, question, and reflect, so that we are knowledgeable of the important issues in our community.
We understand local nonprofits groups and organizations and what they're trying to accomplish in the community. We also monitor the trends, research and new ideas emerging in the larger philanthropic world. This knowledge and perspective helps us focus the work of the Foundation on the community's greatest needs. And it helps us bring people together, including donors, charities, businesses, and government agencies, to better respond to these needs.
We help address many local issues through our grantmaking. Grant dollars are part of the community capital that can be used to address important local issues. We grant broadly across the spectrum of community life, supporting organizations and programs that are making a difference.
We are responsive and accountable. We are credible and reputable stewards of community resources and are committed to being accountable, responsive and transparent. We continually look for the best ways to invest our assets to meet our mission.
---
The Community Foundation of PEI contributes time, leadership and financial support to initiatives that benefit Island Communities.
---
COMMUNITY IMPACT INVESTING
Our donors have a passion for their community. They honour that passion by creating endowment funds and scholarships with the CFPEI which enables them to further their vision for a strong and vibrant community.
---
COMMUNITY BUILDING
We connect donors to local community needs and opportunities to help build and grow a strong and resilient society.
---
LEADERSHIP
We are credible and reputable stewards of donor and community resources and committed to being accountable, responsive and transparent.
---
---
WHAT WE DO
The Community Foundation of Prince Edward Island (CFPEI) is an incorporated, non-profit organization that provides a 'user-friendly' method for donors to create endowment funds to support charitable activities. Income generated from these investments is directed through grants and scholarships to support a wide range of diverse needs in Prince Edward Island communities. Because of the permanent nature of these endowments, income is available for now and generations to come.
The endowment fund allows the donor to leave a memorial legacy to meet their charitable interests in perpetuity, at minimum cost and maximum convenience. Since its incorporation, the Foundation has worked with donors to establish more than 70 endowment funds; these funds now have a current asset base of over 9 million dollars.
This asset base has allowed the Foundation to grant over 2.5 million dollars to worthy community projects and individual scholarships since 1993. In addition to providing a method for donors to create endowments, the Foundation also has a broader community building and leadership role. Some examples of initiatives undertaken by the Foundation in this role include: the Arts and Heritage Stabilization Program; the 'Building the Capacity of PEI's Third Sector' Report; and the Vital Signs Report 'Taking the Pulse of Island Youth'.
---
HOW WE ARE UNIQUE
The Foundation is unique in several ways:
We are donor focused; each endowment fund is customized to respond to the interests and needs of the donor.
We are flexible; if the donor interests change over time, the parameters governing the endowment fund can be modified to reflect these new needs.
Our interests and focus are broad; we have the capacity to respond to and support a wide range of donor and community interests.
We are a registered charity; we can issue tax receipts for endowments and donations, including tax receipts for donations from US citizens.
Note: Internal Revenue Service (IRS) receipts are of benefit in certain circumstances; US citizens considering making donations should consult with a US tax planner.
---
WHO CAN BENEFIT
The Foundation can be of benefit to:
Individuals who wish to honour someone's legacy by setting up an endowment fund; the fund could be to honour the memory of a family member, or recognize someone who has made a important contribution to his/her community.
Community groups, organizations, and businesses who have a passion about an issue or concern, or a particular area within the Island community.
Professional groups and service providers such as lawyers, financial planners, advisors, and accountants who offer estate planning, tax planning, and financial investment services. The Foundation may be an appropriate method to help clients achieve their financial investment, tax planning, and estate planning goals.
Various levels of governments who find themselves acting as trustees or 'hosts' for particular trust or endowment funds; or who wish to recognize the work of a citizen who has made a special contribution to particular initiative, or who has made a significant contribution toward enhancing the quality of life within their own, or the Island, community.
---
SCHOLARSHIPS
Scholarship applications are NOW OPEN!
Encouraging and supporting post-secondary students is the reason some donors turn to the Community Foundation of PEI. The goals of the resulting student awards vary widely. Some support graduates of a specific high school, college, university, or program, while others focus on a loved one's special interests.
2021 scholarships are now open for applications! To review the scholarship list and/or apply – please click below:
---
COMMUNITY GRANTS
Community grant applications are NOW OPEN!
Each year, through the generosity of various donors, the Community Foundation of PEI (CFPEI) is able to provide community grants for various causes throughout the Island. The Community Grants program helps make PEI an even greater place to live for everyone by attempting to strengthen all parts of the charitable sector and/or engaging citizens in building their communities.
2021 Community Grants are now open for applications! To review the Community Grant list and/or apply – please click below:
---
---
Charity Registration Number 890011190RR0001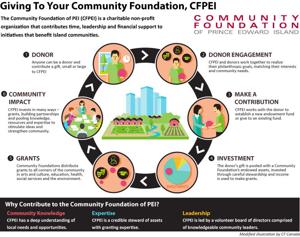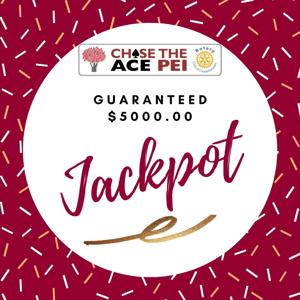 Chase the Ace PEI is a 100% online progressive jackpot, multiple-draw, weekly raffle in which ticket purchasers have the chance to win a Weekl…