Tyson Curran returned to his job at Cardigan Feed last week thankful to be alive after recovering from a life-threatening ATV accident.
The Cardigan native doesn't remember anything about the December 19 rollover in Elliotvale that collapsed both his lungs, broke all his ribs and damaged his liver and gall bladder.
"I just remember waking up in Halifax," said Mr Curran, 24, who now lives in Peakes with his girlfriend Kate Anderson.
Mr Curran had to be resuscitated twice during surgery the night of the accident. He was given 89 units of blood and needed 11 surgeries in all. Essentially, he had to learn how to walk again.
"It's a miracle," he said. "It's a second chance at life. Never take things for granted."
Mr Curran spent nearly two months in a Halifax hospital, much of it while sedated, during the fight of his life.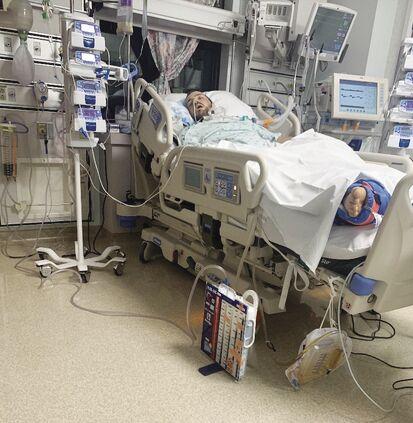 "They were getting me to do a lap around the hospital once a day with a walker. It was pretty challenging to even get the lap done. It was just like dragging my legs."
In March, he was transferred to the Kings County Memorial Hospital in Montague where he did more rehab to improve his balance and walking. He was later moved to the Queen Elizabeth Hospital in Charlottetown for more recovery work.
"They started working with my legs more to build up my strength. I could only stand for so long and then I'd be worn out and get sore. It was something else. I never want to do it again, I know that."
A five-minute walk felt more like running 100 km, he said.
"There were a couple of times I wanted to just lie in the bed and give up, but I figured I had to get back to what I liked doing."
What he likes doing is driving a truck for Cardigan Feed. He said he wanted to drive one since he was a kid, and going back to work on May 3 was surreal.
"It was like a dream come true, like I was a little kid again," he said. "They kept the job open for me and now that I'm back, I'm doing easier work."
Mr Curran finished his physio two weeks ago, but getting his body to do what he wants can still be a challenge. He will need hernia surgery in a year's time to deal with an incision in his stomach that didn't close up as hoped.
"Pulling stuff can be hard. I feel like I'm tearing stuff inside. All those muscles weren't working for so long."
Mr Curran is grateful for the support from family and friends, including his parents Leo and Angela. Plenty of donations were made, including $11,900 raised in a GoFundMe online fundraiser. He said those donations covered all his bills up until sometime in April.
"People were really good to us and brought food and everything to my parents' place."
He said the experience has changed him and he understands just how quickly things can change.