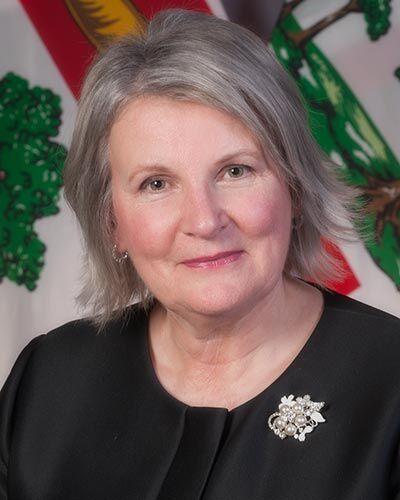 Ten people, either suffering from Lyme themselves or having a family member with the disease, recently met with Belfast-Murray River MLA Darlene Comption to voice their concerns over the province's testing methods.
Many Islanders diagnosed with Lyme have been dealing with the residual effects of the disease for years.
However, they are hopeful Ms Compton will amplify their concerns related to how the health care system deals with diagnosis and treatment in this province.
Actually issues over the prevalence of the bacterial infection in PEI have been on Ms Compton's radar over the past few years.
"When you have a number of people reaching out to you, you want to find some answers and I don't know what I am going to find out," Ms Compton said.
"I would like to weed through the different levels of government and health to see what can be done," she added.
Lyme is transmitted to humans through a bite from an infected tick.
At the top of the list for most of those who attended the meeting with Ms Compton is to see Island doctors are given more leeway in regards to diagnosis and treatment.
A main concern is the testing method, said Amanda Millar, whose 16-year-old was recently diagnosed. Ms Millar has been living with the disease herself for five years.
She said the ELISA test the province currently uses to detect Lyme isn't as accurate as the Western Blot test.
Ms Millar said the ELISA test, which detects antibodies in the blood, isn't always reliable and she considers it a lucky break her son was diagnosed when he was.
"You don't always need long-term antibiotics if you catch it quickly enough," she said.
Ms Millar's son was prescribed treatment but now he must wait to see a specialist which won't happen for two months. If he needs additional medication, the disease will get ahead of him and he'll be set back further than square one, she said.
Ms Millar said she recently called all relevent government offices in the hopes of direction on acquiring more antibiotics but no one responded.
She knows the challenges with the system all too well.
The Murray Harbour woman suffered for a number of years before getting her diagnosis in British Columbia. Since then the road has been long and arduous to get to where she is today, but because her son's diagnosis was early she is optimistic for his recovery.
Angela Woods of Clyde River did not attend the meeting, but she, like other Islanders spent years trying to obtain a diagnosis.
She agrees there needs to be more authority and education for Island doctors when it comes to Lyme and other complicated diagnoses.
"There needs to be a plan for chronic illness in general, even outside of Lyme," Ms Woods said.
She goes a bit further than recommending improved testing.
"They should be able to diagnose without a test," she said. "Lyme is a multi-systematic infection so when you have something (medically) that is not making sense it has to be an option."
Lyme was not on her radar or that of her doctors for several months after she became ill.
"My doctor did everything he was supposed to do, but I find they are very limited as far as trying to play detective."
Another family in southeastern PEI went through a harrowing summer when their school-age son began to show symptoms of what turned out to be an acute case of Lyme.
The family chooses not to be identified due to what they described as a 'stigma' surrounding the disease.
The child's severe condition led the family to a specialist early enough that the disease was detected and they consider his treatment successful so far.
"The biggest thing is acknowledgment," the mom said, noting PEI is still considered a low-risk area.
The mom sees public health recommending testing only when someone has traveled to a high-risk area as a barrier.
This family had not traveled to a high-risk area.
"Until (PEI) is willing to acknowledge it is here and willing to advise their physicians to test without travel to an endemic area these acute cases are going to be missed, symptoms are going to get worse, the quality of life is going to go down and more people are going to suffer potentially long lasting effects," she added.
Another concern for many is the out-of-pocket expenses.
Both Ms Millar and Ms Woods have travelled off-Island for diagnosis and treatment options not recognized by the health system in PEI.
Ms Compton said she can't promise big changes, but it is important to start the conversation.
"It has been brought up a number of times in caucus but we have just kind of scratched our heads and said 'where do we go from here?'" Ms Compton said.
She has heard many of the experiences already on an individual basis, but she said it was good to hear everyone together.
"It is going to have to be a big change and it is a change that has to be done," she said.
The Department of Health sent a link to the province's webpage on the disease in response to questions from The Graphic.