Over the past two decades, it's estimated the Helping Hands Band of West Prince has raised $1.9 million, if not more, for numerous worthy causes.
The band formed in 1998 as a group of local musicians who wanted to give back to their community by donating their time to provide entertainment at benefits or other charity events.
"I guess we all liked music and wanted to do something to help out," said founding member Orville Rogers. "We couldn't go and give money to all the benefits individually, so we thought let's get a band and play and help out that way."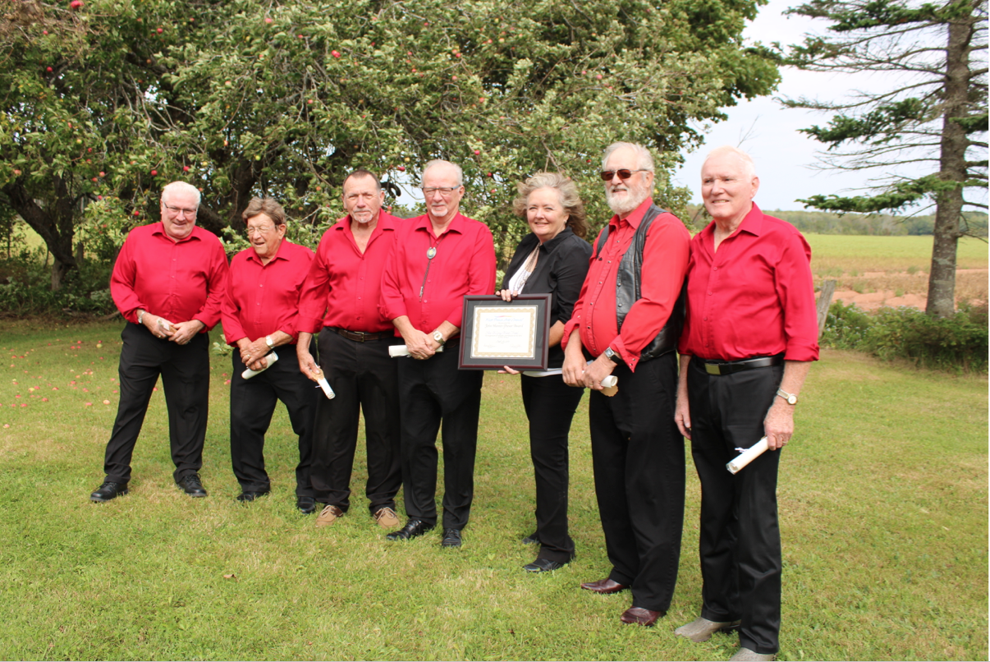 Along with Mr Rogers, original members were Charles Caseley, Junior Boylan, Tony Constante, Alton Silliker and Allie Silliker. Charles Caseley and Allie Silliker have since passed away, along with members Edgar Wedlock, Johnny Fitzgerald and Lorne Howard. Member Tony Constante moved back to Ontario in 2007. Current members include Ted Peters, Bill Mallet and Tony Sharp.
Over the years, the band has supported many cause, both locally and beyond. They have played at many benefits for individuals in need, supported breakfast programs in schools, local fire departments, the West Prince Caring Cupboard, Christmas Hampers, Transportation West, local hospitals as well as annually donating to the Prince County Hospital and the Queen Elizabeth Hospital. The list goes on and on.
The band was recently honoured by the West Prince Arts Council with a John Hunter-Duvar Award, which is presented to individuals or groups who have demonstrated or promoted the arts in West Prince.
Along with the Helping Hands Band, O'Leary-Inverness MLA Robert Henderson and Lieutenant Governor of Prince Edward Island Antoinette Perry were also recognized at a ceremony at the Little Red Schoolhouse in Woodstock on Sept 12.
The COVID-19 pandemic prevented the council from presenting the award in 2020 and the 2019 award was accidentally forgotten about, so this year the arts council decided to present all three at one ceremony.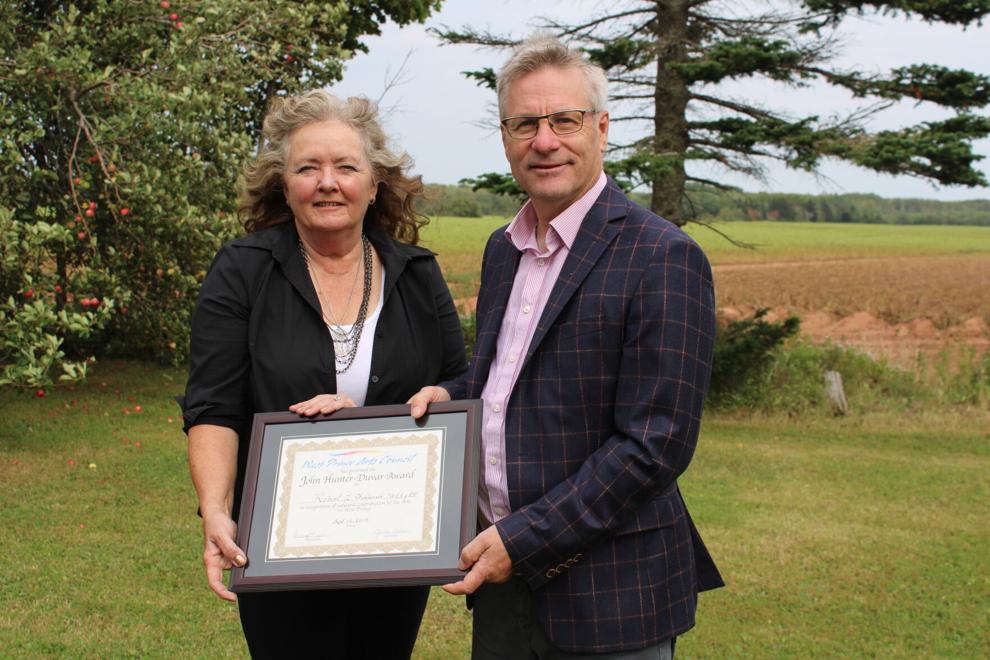 Mr Henderson was the 2019 recipient of the award. Prior to his political career, Mr Henderson was a former economic development officer and employment counselor with the PEI government. He was also an active community volunteer, chairing numerous organizations including Ellerslie - Tyne Valley Community School, Tyne Valley Rink, West Prince Community Futures, PEI Guitar Festival, Tyne Valley Oyster Festival and many others.
"Robbie has been a very strong and dedicated supporter of West Prince Arts Council for many years," said council member Marlene Bolger.
Mr Henderson said the council does a lot to help artists to advance to the next level.
"Our artist community is very important," he said. "I'm honoured to be a recipient of this."
The 2021 recipient of the award was presented to Ms Perry. The council decided to recognize the Tignish resident as someone who has promoted the arts in West Prince over the past several years.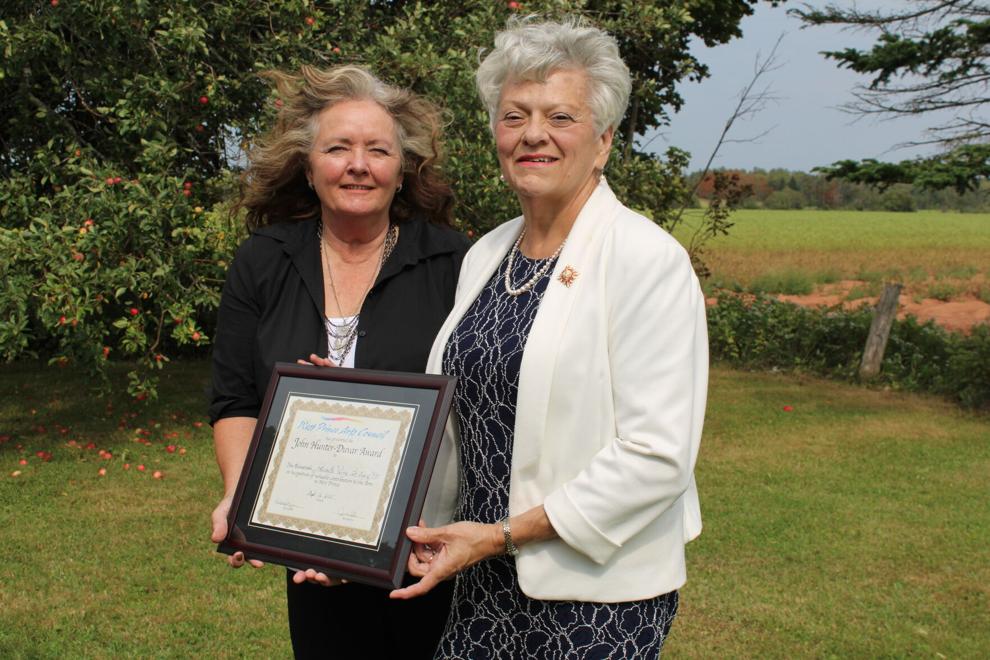 Ms Perry taught music and French for 32 years at the elementary school in Tignish. She worked to establish the West Prince Music Festival, was a member of the West Prince Arts Council in its early days and also the Tignish Historical Preservation Society. A proud Acadian, in 1979 Ms Perry composed the theme song 'Acadiens, c'est l'heure' for 375th anniversary of the arrival of the first Acadians and the 60th anniversary of the founding of the Societe Saint-Thomas-d'Aquin. She also directed the Bicentennial Choir for the first ever recording of Ave Maris Stella, the Acadian National Anthem. An organist and church choir director at St Simon and St Jude Church, in 2011 Ms Perry spearheaded her parish's organ restoration project and was involved as co-coordinator of the Summer Organ Recital Series at St Simon and St Jude.
"All the work I've done in music and whatever, it was all a community effort," said Ms Perry. "It's all for the betterment of the community."
The Helping Hands Band was the 2020 recipient of the award.
"It's fantastic," said Mr Rogers about the band being recognized. "We weren't expecting it at all and to be mentioned with your honour and Robbie, it's just fantastic. It's something else."
In September 2004, the band began hosting a Jamboree every second Saturday at the St Anthony's Hall in Woodstock until the pandemic shut them down in March 2020, but they hope to be back hosting these shows as soon as it is safe to do so.