From 1894-1895, Lucy Maud Montgomery taught at Bideford School in western PEI, her first teaching position. She was only 19 years-old when she came to Bideford.
The future Anne of Green Gables author boarded at the nearby Bideford Parsonage, which now operates as a museum and is a designated heritage place of PEI.
The site of the former school, now a picnic area, joins the museum as being recognized as a place of historical significance after being declared a registered heritage place under the Heritage Places of Protection Act.
While the dedication was made during the museum's annual Strawberry Social on July 18, the Bideford School Picnic Site was officially recognized in February 2018 thanks to the West Country Historical Society who submitted the application to PEI Heritage Places Advisory Board.
"In 2017, we felt it should be registered as a heritage place of PEI," said society member Janice Trowsdale. "It was approved early 2018, but life got really busy that spring and summer and we kind of forgot about it until 2019 when things kind of settled down a bit, and we were planning something for 2020, which was 125 years when she (Lucy Maud Montgomery) was here and then COVID hit."
Ms Trowsdale said for many years the society had been focused on preserving the parsonage.
"We really didn't look beyond this immediate property here until we kind of felt this was an established place and began looking for other places to make sure they don't lose their heritage," she said.
According to records, there had been a school in the Bideford area as early as 1849, with a new school being built in 1876 and replaced in 1890. In 1914, the school was destroyed by fire. A former community hall was moved to the site and used as the school until 1951 when students began attending school in Ellerslie. The school house was removed from the site and in 1977 the Bideford Women's Institute acquired the property and then transferred the land to the community council. It was the council that developed the site for a public space, placed a cairn in memory of Lucy Maud Montgomery and to recognize the area's early shipbuilding past.
There are three levels of recognition in when it comes to heritage places on PEI: declaring something a national historic site, or provincially recognizing a structure or area as a designated or registered heritage place.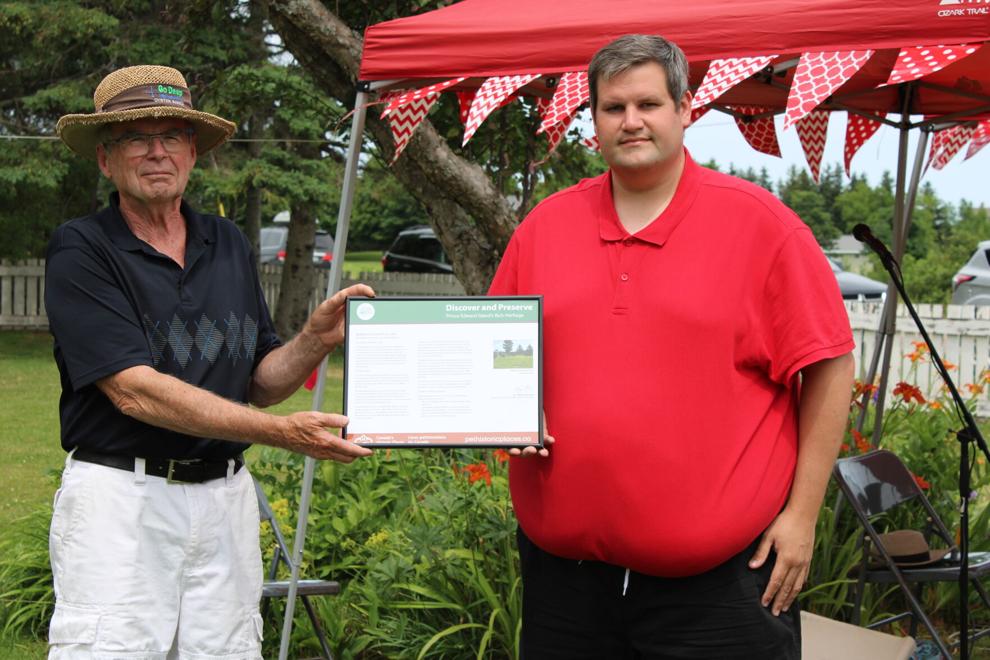 According to the provincial guidelines, a designated heritage place is a protected place subject to the provisions of the Heritage Places Protection Act and associated regulations. A registered heritage place is any site or structure that has been researched and deemed to be a provincial heritage resource. A registered heritage place recognizes the historic values of a place, yet doesn't place any restrictions on the property owner. The Bideford School Picnic Site falls under the latter.
"The picnic site is a cultural landscape, so there's no structure still there, but it still has significance because what was there," said Charlotte Stewart, heritage officer with the Department of Economic Growth, Tourism and Culture, who attended the Strawberry Social. "A school is always important to the history of a community and the connection with Lucy Maud Montgomery, that makes it extra special too."
The advisory board also recognized how instrumental the West Country Historical Society has been in the preservation and development of the Bideford Parsonage Museum and the picnic site.
"It's important to recognize places that communities value for their historic and cultural significance," said Scott Smith, member of the Heritage Places Advisory Board for Prince County, before presenting a certificate to Paul Burleigh with the West Country Historical Society. "Small rural community schools were the heart of communities not only for their role in educating children, but as a meeting place for community groups, school concerts, political meetings, and celebrations and events."
Additional signage at the picnic site will help to inform visitors of the historical significance of the area and its connection to one of Canadian's most famous authors. And the society is hoping to develop walking tours to the area as a possible fundraiser for new picnic tables at the site, also because Lucy Maud Montgomery would walk the short distance from the parsonage to the school when she taught there.
"It's a beautiful spot, so we want to preserve it for years to come," said Wayne Trowsdale, Ms Trowsdale's husband and fellow society member.
Ms Trowsdale said it's nice to see the land protected for future generations.
"It means nothing can happen to it without the approval of the province," she said.