With the conclusion of public information sessions on July 19, Lennox Island First Nation is one step closer to turning Pituamkek, also known as Hog Island and the Sandhills, into a National Park Reserve, co-managed with Parks Canada.
"Many of us grew up hearing stories about the Island, and went there with our parents and our grandparents to fish eels and oysters, pick berries, and to camp," said Chief Darlene Bernard.
Pituamkek (pronounced Bee-doo-um-gek) is the largest in a series of islands stretching 50 kilometres along the shores of Northwestern PEI. Along with Hog Island, the Sandhills are made up of Conway Island and Cascumpec Island. This chain of islands helps protect Lennox Island First Nation and other Island communities from the wave and storm impacts of the Gulf of St. Lawrence, meaning it has an impact on erosion in the northwestern part of the province.
The island is also home to home to endangered and rare species and ecosystems, including the little brown bat, the northern long-eared bat, the piping plover, and the Gulf of St. Lawrence aster.
Pituamkek is considered one of the biological and natural landscape highlights of eastern Canada. In fact, the shoals known as Iron Rock is home to PEI's only igneous rock formation, a volcanic incursion more than 240 million years old, and Pituamkek's sand dunes form one of the most ecologically significant coastal dune ecosystems in Eastern Canada.
The Mi'kmaq connection to Pituamkek goes back thousands of years, and is home to many archaeological sites, sacred sites, and an ongoing Mi'kmaq land use tradition. One of these sacred sites is a burial ground where Mi'kmaq ancestors are buried.
"It's a Mi'kmaq heritage landscape, and it's one of the last wild places on PEI," said Chief Bernard. "We want to be able to protect that area for future generations to come and experience, and enjoy."
This isn't the first time First Nations community has partnered with Parks Canada to co-manage a National Parks Reserve. Other examples include Torngat Mountains National Park Reserve in Labrador, and Gwaii Haanas in National Park Reserve in Haida Gwaii, BC.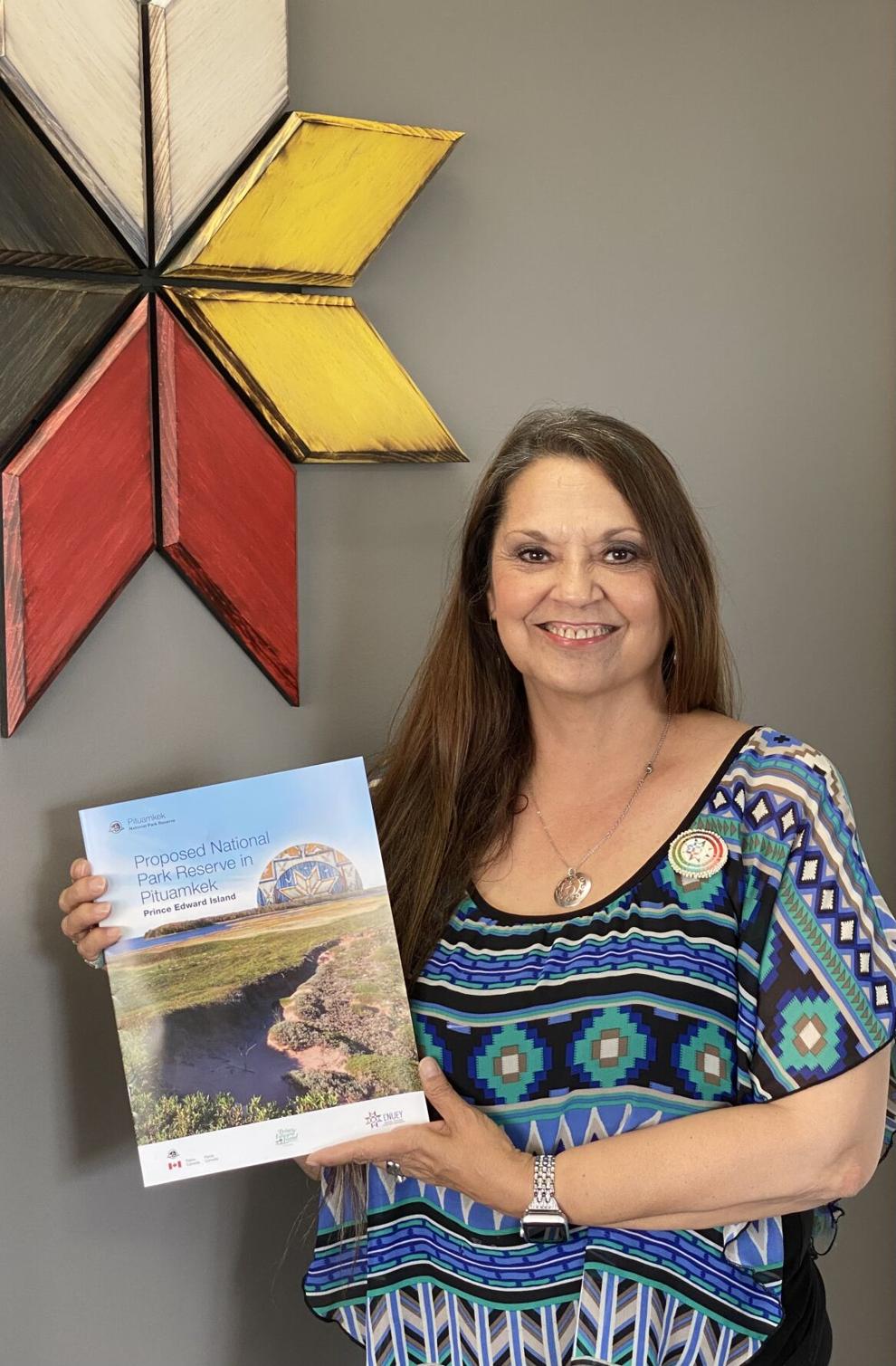 By partnering with Parks Canada and turning Pituamkek into a National Park Reserve, the hope is to attain several goals including the protection of the ecological integrity of the local wildlife by working with First Nations communities, local residents, and conservation groups, ensuring of First Nations communities are able to preserve and celebrate their ancestral connection to the land, combining traditional knowledge and science together to protect the diversity of the area's flora, fauna, and landscape features, and to provide First Nations communities the opportunity to present the natural and cultural heritage of the area.
The process has been a lengthy one, which first began in 2006.
"It's all coming to a head," said Chief Bernard. "We had to go and check out other places, which is why we reference Torngat Mountains, and Gwaii Haanas. Those are places that we've checked out, and we thought that they are doing really good work with regard to how they're co-managing with First Nations out there."
Among those at the in-person session at Lennox Island First Nation were Scott Green, Noel Pendergast, Mary Pendergast. All were impressed with the endeavour.
"We live on the other side of the bay from here (in Malpque) and were not aware of this," said Mr Green. "I don't think many Islanders are aware of it, and certainly not many Canadians are. I think it's important to protect that area, and educate people."
"My background is in education, and I can see a lot of opportunities for educating children about the environment there, as well as the Indigenous history," she said. "There are huge opportunities possible for education."
One of the concerns brought up at the session was how much visitor access would be allowed, given the rare and endangered species that inhabit the island.
Mr Pendergast feels because of this, access during certain times of the year should be limited.
"Like, when the plovers are nesting, no visitation," he said.
There's still more to do before Pituamkek can become a National Park Reserve. All of the research and survey information from the information sessions must be looked over, but the hope is by Spring 2022 an announcement with be made in regard to signing a Memorandum of Understanding to move forward with the project.
"We can all do this together," said Chief Bernard. "We're in this for everyone, it's not just about Abegweit and Lennox, it's about all Epekwitnewaq, all Islanders."
Though information sessions are now concluded, Chief Bernard said feedback is always welcome throughout this process. If Islanders would like to provide their input they can do so by contacting L'nuey, a not for profit organization focused on protecting and implementing the constitutionally-entrenched rights of the PEI Mi'kmaq.